Although she is nervous about conducting her first casting interview, Holly Michaels is open to getting things started by stripping down and showing off her buxom body.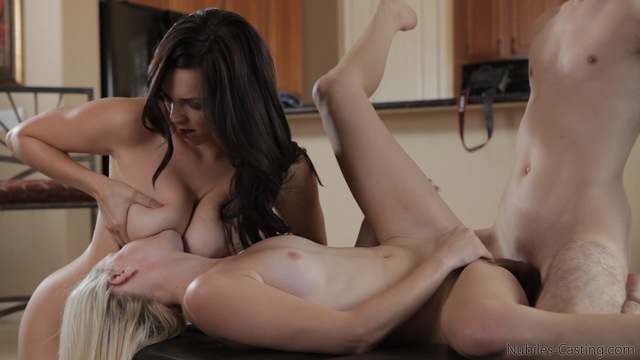 To see more of this Video make sure to click here
After we get an eyeful, Holly begins her interview with the lovely blonde Stacey Kiss. Stacey admits that she is new to porn and nervous about her first time, but Holly does an excellent job of putting Stacey at ease and getting her ready for her man.
When Stacey is nice and wet and open for a bug cock to fill her fuck hole, Holly alternates between filming up close and personal and using her eager tongue to make sure that Stacey is so hot and horny she has to cum!
Once she knows that the blonde is well on her way to orgasm, Holly slips her hand between her legs to masturbate her own horny clit, but stays close to continue helping Stacey find her climax and then take her man's load in a hot wet creampie.
Director's notes:
I wanted to try a new casting agent as I lost contact with Cali and I was unsure of Vanilla Deville. I gave Holly a chance without really knowing anything about her. Little did I know I found a treasure.
Stacey Kiss is a brand new girl who has never shot an adult scene and I don't think she went on to shoot anything else. She is very fresh and open and had a great vibe with Holly. Holly was not nervous but as most of the casting agents do during the interview they become a little unsure. This is normal for most of the girls but Holly was still so natural it was barely even noticed. After a few minutes she really rolled well with the interview, body exploration and prepping the girl for what was about to happen.
Once they got into the sex Holly made sure that Stacey would cum and did whatever she did to make the most out of the scene. I can guarantee the without Holly the sex would have been nowhere near as good.
We will definitely be bringing Holly back again.