Marissa Mei makes her debut as Nubiles casting director. She welcomes Aurora Monroe onto set. Aurora is very new and has only shot a few solos scenes. Aurora only came to shoot solos as well for us but she is more than open to doing a boy-girl scene with our camera man since she finds him very cute.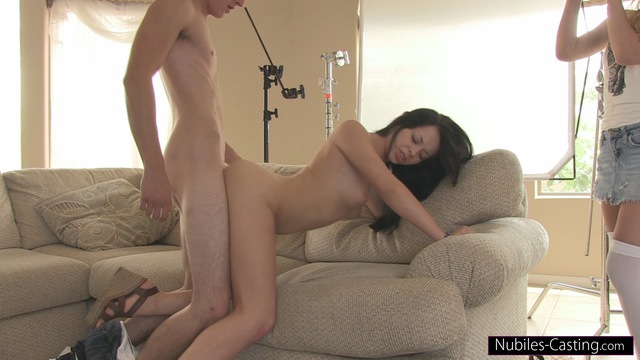 To see more of this Video make sure to click here
She is very open sexually so the sex comes naturally. She loves the cock penetrating her while she rubs her clit into orgasm. Aurora passes her casting test and we are sure she will go on to star in many future movies.
Director's notes: This was the first casting scene we have ever shot.
We have always used hot models to help us not only recruit models but test them in casting to see if they would be good for Nubiles. The concept of this site is to record the process.
Marissa is a model I was working with to try to get her onto to Nubiles. She expressed interest in my casting idea. At first I thought she was great because she has such a Nubile body, a great smile and nice attitude.
However as I started to shoot I noticed she was really shy both in the interview and the sex part. The observer effect, someone acts differently while being observed, happened as soon as we started recording.
The model Aurora has an amazing natural open personality and connected right away with everyone on set. Even though she was very new to shooting, she knew exactly what to do. Her personality was so strong she even helped lead Marissa through the casting. Now really it should be the other way around. Still I thought I would give Marissa another try. Her next episode is with Kennedy Leigh.